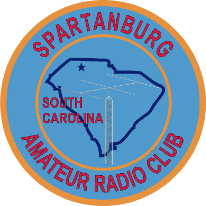 Spartanburg Repeaters at:

147.315 + (Tone 123.0)
224.440 – (No Tone)
442.075 + (Tone 123.0)

ATTENTION:
Beginning May 29, 2018 all club meetings will be held at the
National Guard / University Readiness Center building,
located on the USC Upstate campus.
See the Meetings page for more details about the new location.

Spartanburg Amateur Radio Club's blog is located at:
cqsparc.blogspot.com Check it out !!

HOW TO BECOME A HAM RADIO OPERATOR
Welcome to the Spartanburg Amateur Radio Club's home on the World Wide Web. If you are visiting, please check out the "About Us" page. If you either live in this area or will be traveling by, don't forget to program in our 2 Meter Repeater frequency. Our Spartanburg area Amateurs are warm, friendly and always ready to simply wish you a good day, try to help you with that latest technical problem, or help guide you safely through "SPARC Country."

Whatever the case, we sincerely hope you enjoy our site and will come back to visit us soon.



---
SPARC NETS

The Spartanburg Amateur Radio Club Nets are open to all area amateurs so please join in.

The Two Meter Net meets every Monday and Friday, 8:30 PM on 147.315 (+).

Our 70 cm net meets on the 1st, 3rd (and 5th) Thursday of each month, 8:30 PM on 442.075 (+).



---
Mt. Mitchell 2020

Monday, May 18, 2020

Click HERE for assignment and information page – WITH GPS DATA.


---
Mailing Address:
Spartanburg Amateur Radio Club
235 Harrell Dr.
Spartanburg, SC 29307



---
© Copyright 2012 – 2019 Spartanburg Amateur Radio Club. All Rights Reserved.